Management Philosophy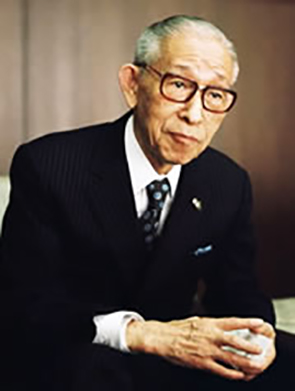 "The main purpose of production is to manufacture items of good quality for daily use in abundant supply, thereby enhancing and improving the life for everyone and it is this goal that I am dedicated. Achieving this mission is the ultimate purpose of Matsushita Electric, and we will devote untiring energy to realise this goal."
Konosuke Matsushita
Founder
1894-1989
Basic Management Objectives
Recognising our responsibilities as industrialists, we will devote ourselves to the progress and development of society and the well-being of people through our business activities, thereby enhancing the quality of life throughout the world.
Our Beliefs
At Panasonic, we are committed to maintaining the same philosophy wherever we operate. In particular for Panasonic overseas operations, this philosophy is characterised by the following tenets.
Contribution to Society
Here in Thailand, besides involvement in community activities and sponsorships, Panasonic actively seeks to create employment opportunities and to enrich the quality of the workforce through skill upgrading and training for a better Quality of Life. To achieve this, Panasonic has invested in its Panasonic Regional Training Center, a fully equipped modern training academy for its staff
Promotion of Technology Transfer
It is through a synergistic environment that Panasonic employees pursue and breakthrough to greater heights of technological progress. Panasonic recognises the wisdom of shared expertise and resources in order to promote product and machine technology advancement, productivity and quality excellence. With local participation in Panasonic's state-of-the-art R&D activities, mutual technological progress is ensured. The combination of technological expertise and Panasonic's concept of manufacturing excellence has led to Panasonic products achieving the highest quality.
Learn More about
Electric Works Company

Distributor
ตัวแทนจำหน่ายสินค้าประเภท

Electrical Construction Material

57 ซอยศูนย์วิจัย 14, ถนนเพชรบุรีตัดใหม่, บางกะปิ, ห้วยขวาง, กรุงเทพฯ 10310
โทร.0-2718-2450(สายอัตโนมัติ 10 สาย),0-2318-5012-60
0-2318-5320
0-2718-2252

TEEYA PAIBOON CO., LTD.
57 Soi Soonvijai 14, New Petchburi Rd., Bangkapi, Huay-Kwang, Bangkok 10310
Tel.0-2718-2450(Automatic 10 lines),0-2318-5012-60
0-2318-5320
0-2718-2252
marketing@teeyaphaiboon.co.th
sales@teeyaphaiboon.co.th
Website:http://teeyaphaiboon.co.th

ตัวแทนจำหน่ายสินค้า

Power Tool

407/68 หมู่ที่ 4 ซอยแจ้งวัฒนะ 6 ถนนแจ้งวัฒนะ แขวงตลาดบางเขน เขตหลักสี่ กรุงเทพฯ 10210
โทร.0-2900-4888
แฟ็กซ์ 0-2900-4717
อีเมล์ sales@cce.co.th

CHANCHAI ENGINEERING & EQUIPMENT CO.,LTD.
407/68 Moo 4 Soi Chaengwattana 6, Chaengwattana Rd., Laksi Bangkok 10210
Tel.0-2900-4888
Fax. 0-2900-4717
Email. sales@cce.co.th
Website:https://cce.co.th/

ตัวแทนจำหน่ายสินค้า

White Conduit

104 อาคารปานะวงศ์ ชั้นที่8 ห้องเลขที่ 801
ถนนสุรวงศ์ สี่พระยา เขตบางรัก กรุงเทพมหานคร

โทร. 0-2233-9287, 0-2236-6491, 0-2236-6509
แฟ็กซ์. 0-2236-1943

SDS International Co., Ltd.
Room No.801, 8th Floor, Panavonges Building 104
Susawongse Rd. Si Phaya, Bangrak, Bangkok 10500
Tel. 0-2233-9287, 0-2236-6491, 0-2236-6509
Fax. 0-2236-1943
ตัวแทนจำหน่ายสินค้า

Indoor Air Quality

18/6 หมู่ 7 ถนนบางนา-ตราด ตำบลบางโฉลง
อำเภอบางพลี จังหวัดสมุทรปราการ 10540

โทร. 0-2312-7148
แฟ็กซ์. 0-2312-7165-7

Panasonic A.P. Sales (Thailand) Co.,Ltd.
18/6 Moo7, Bangna-Trad Rd., Km.17,
Bangchalong, Bangplee, Samutprakarn 10540
Tel: 0-2312-7148
Fax: 0-2312-7165-7
88/8 ม.9 ถนนฉลองกรุง แขวงลำผักชี เขตหนองจอก กรุงเทพฯ 10530
โทร. 0-2172-8889
แฟ็กซ์. 0-2171-1371-2
Thai Engineering And Business Co.,Ltd
88/8 Moo 9 Chalongkrung Rd., Khwaeng Lam Phak Chi,
Nong Chok, Bangkok 10530.
Tel. 0-2172-8889
Fax 0-2171-1371-2